Scaling a business is hard. Scaling an amazing company culture is even harder. But this is something we are completely committed to. Martin and myself (James) set up BrewDog back in 2007 and for the first year our only other team member was a chocolate Labrador. It is pretty crazy to think that we now have almost 2,000 amazing team members globally.
We recently put together an internal CrewPrint which outlines our commitments to our team and we also wanted to share it with our wider community.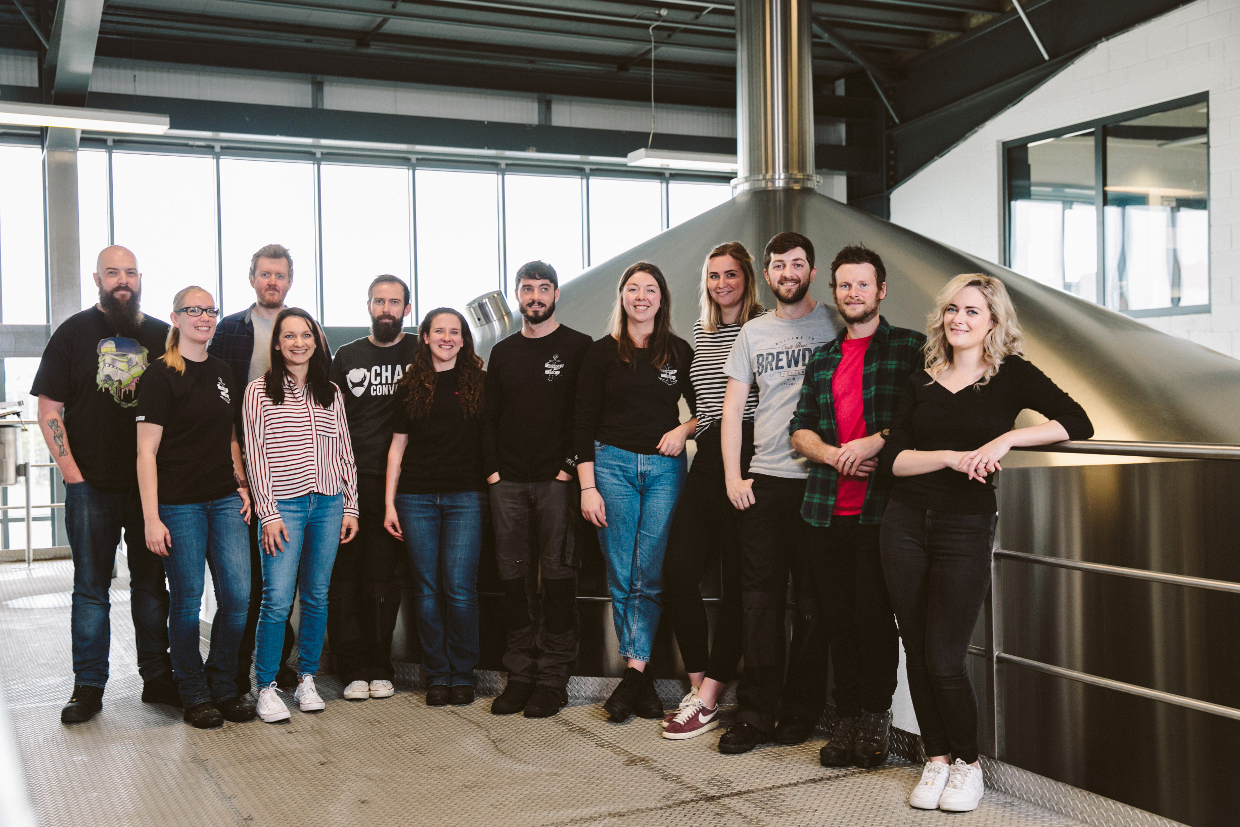 BrewDog exists for one very simple reason. To make other people as passionate about great craft beer as we are. We also want to show that craft beer can be a force for good and build a completely new type of business. A business that is community-owned, a business that gives back, a business that is open and transparent and a business that looks after its amazing people incredibly well. In short, a business that we are all extremely proud to be part of.
The CrewPrint will be the roadmap for BrewDog as an employer for the next 12 months and beyond. A cast iron commitment and a setting of the bar to which we can hold ourselves accountable.
The document outlines all the things we currently do in terms of looking after our staff and also outlines some brilliant new initiatives and commitments we have developed together with our team.
We are a Real Living Wage Employer, we provide private medical care, enhanced pension contributions, paid sabbaticals, extra holidays days, Pawternity leave and we share 10% of our profits evenly with our team via our Unicorn Fund. We also fund team members to sit all levels of Cicerone and give them an automatic pay increase for every level they pass.
We also believe in giving back. We fund 1 day of charity work per year for each team member – this equates to almost 2,000 days per year or over 8 years of working days. We also match any team member's charitable giving up to £200 and via our BrewDog Foundation give away at least £1m to causes chosen by our teams and our Equity Punk community.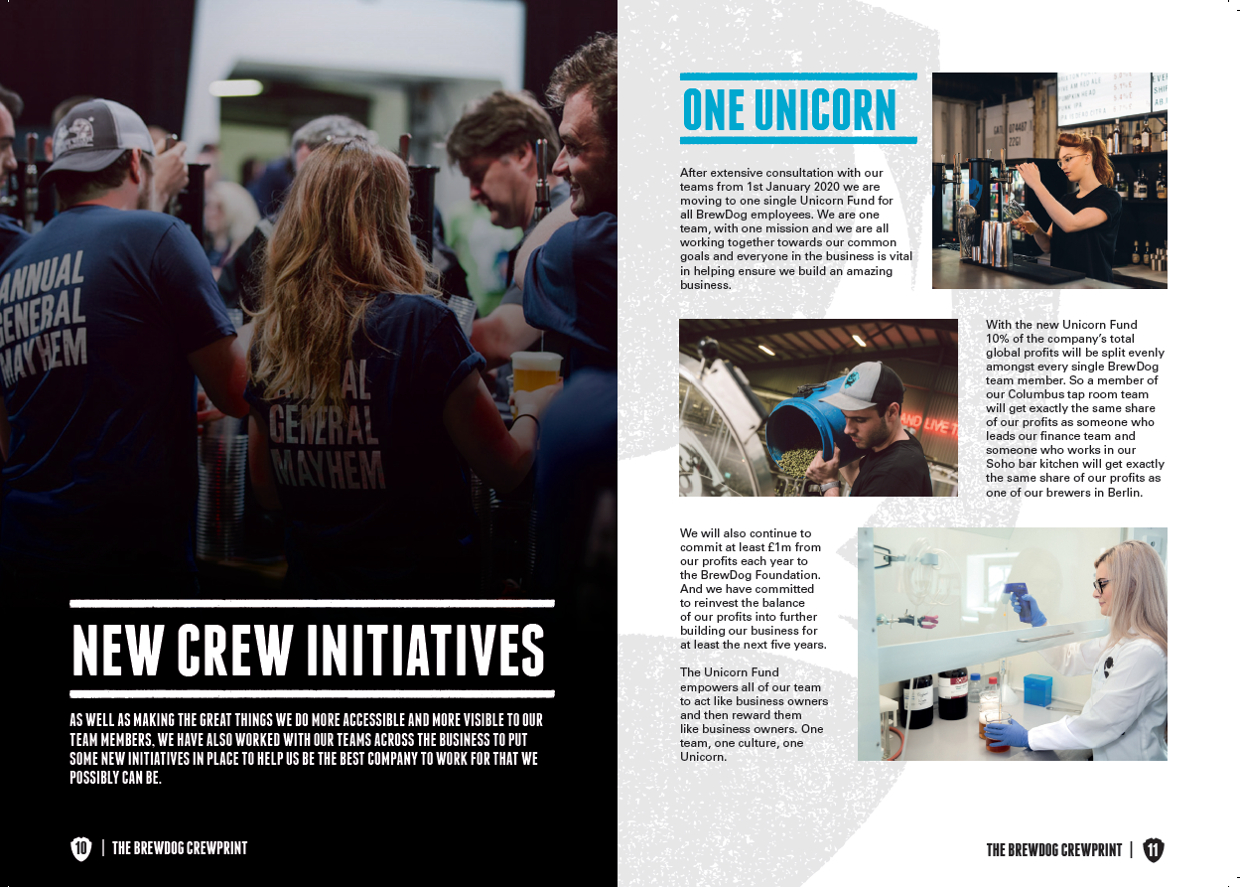 One of the new initiatives we outline in our CrewPrint is the BrewDog salary cap. We want to build a new type of business and focus on developing our own people and next generation of leaders internally, so no one will join our business on a salary which is more than 7 times higher than our entry level positions.* To put this into perspective the average gap between the highest paid person and the lowest paid person in a UK public company is a massive 141 times, in the USA it is a huge 361 times.
We are also really excited about our new BrewDog Academy. We believe one of the best ways to develop our people if for them to learn about the fundamentals that drive our business directly from our senior team. The BrewDog Academy will feature two Monday evening lectures a month with a Q&A session following each, and of course some beer!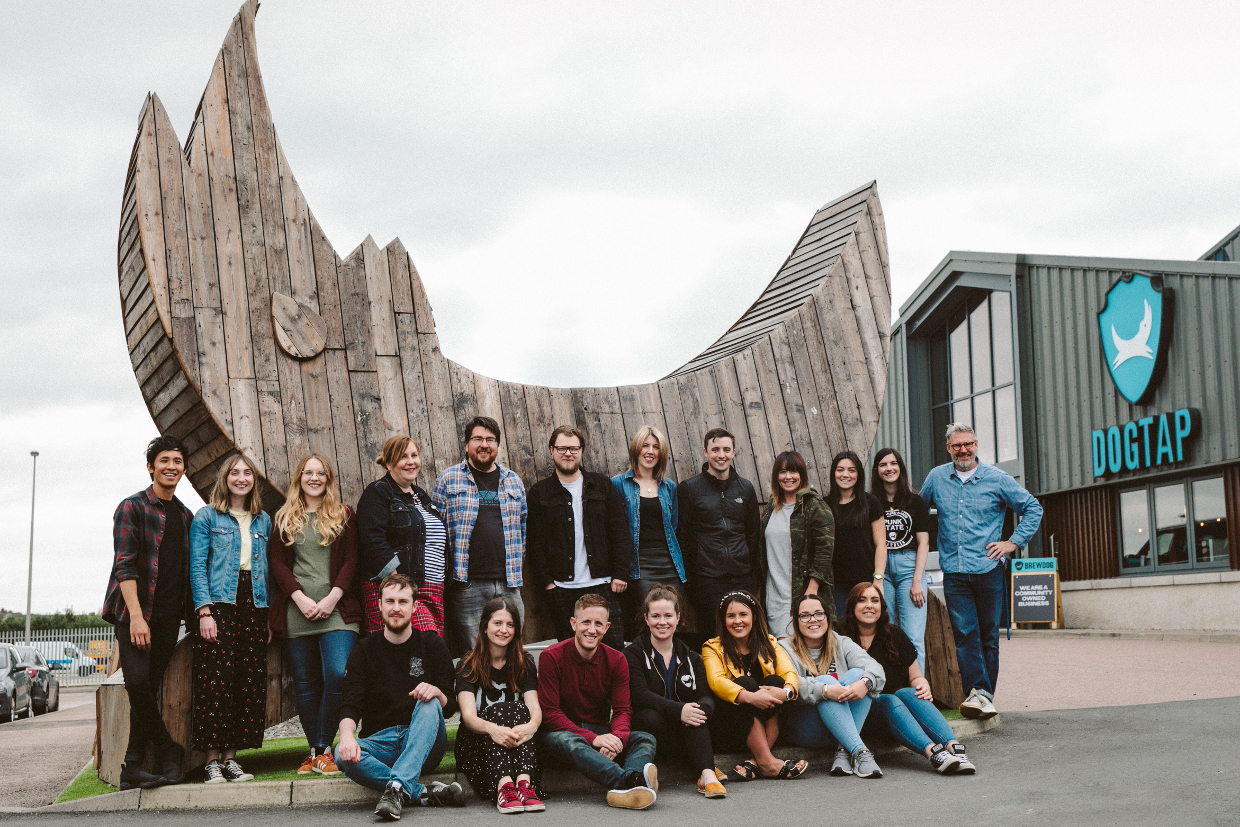 Rebels smash the system. Mavericks build new ones. As we enter our second decade we want to make the move from Rebel to Maverick as we look to build a fantastic team and an enduring business. And that is exactly where the BrewDog CrewPrint comes in.
Hold Fast,
James & the team x
If you want to be a part of that culture, you can check out our latest vacancies here.
*capped at a maximum at 14x, increasing by 1 for each year of service